With the smell of popcorn and burgers filling the warm summer air, a crowd of young cinephiles wait in anticipation. We're in the heart of Camden Lock, which tonight has been transformed into a sea of deck chairs, bean bags, bunting and fairy lights. It's all in the name of Backyard Cinema, London's latest outdoor pop-up cinema project. Just a year ago, the organisers were literally putting on shows in their own back yards and following the success of these events they have decided to take on the big boys.
As the light starts to fade, two 50s-style usherettes – complete with red hats, red jackets and black shorts – hand out boxes of fresh popcorn before showing us to our choice of beanbag or deckchair. The beanbags are more relaxing (and great for snuggling), but the deckchairs are more practical for watching the film.
The refreshments on offer are delicious homemade burgers from Honest Burgers, ice cold beer from Brewdog and some special summer cocktails. And what's more, you don't even have to miss any of the film – the usherettes are on hand to take orders and deliver to your seat.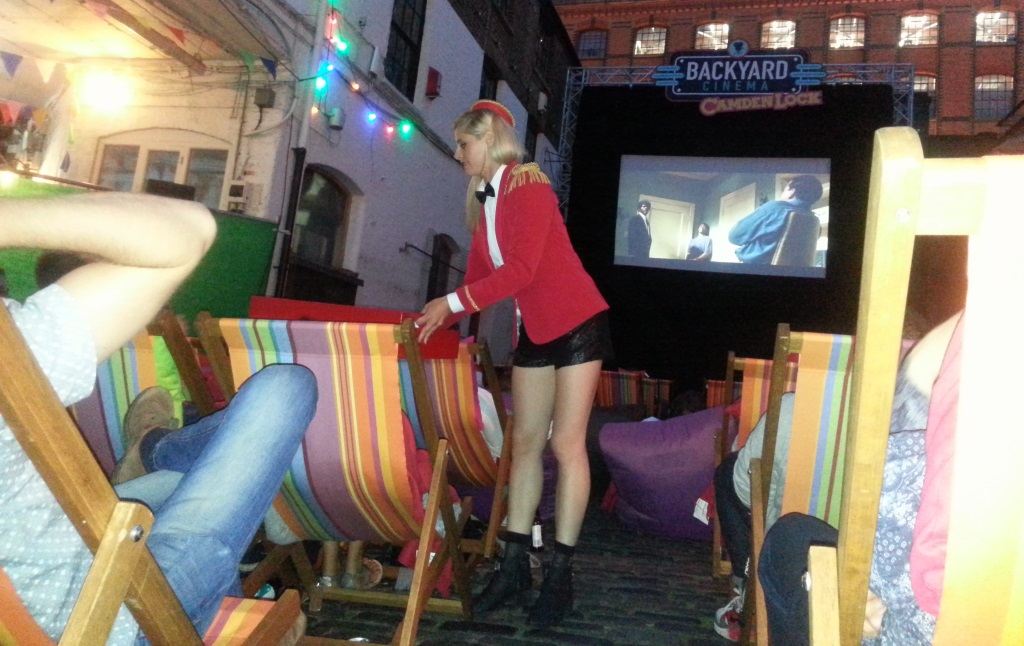 The ever-friendly hosts, the festive decorations and gourmet refreshments help create a perfect atmosphere for enjoying classic films. What sets this cinema apart from the other contenders is the homemade and intimate feel. It really does still feel like you could be in somebody's backyard. On the evidence of tonight, this summer is sure to be a big success for Backyard Cinema. If they continue like this, they're gonna need a bigger back yard.
Backyard Cinema is on at Camden Lock throughout August. See full listings here.
Read more posts by Alex Fowler here and follow him on Twitter @ABVFowler