When God created Bank Holiday weekends, it was under the premise that we eat until the very seams of our skinny jeans become compromised.
Ideally in an outdoor setting.
Ideally somewhere just outside London with a high chance of rain, where hay bales are deployed as dining tables.
Luckily, observing the sanctity of probably my favourite commandment was made super easy this Bank Holiday when the Foodies Food Festival rolled into a park near Brentford.
Regular intervals of market stalls, populated by no-nonsense regular folk selling their passion in pot-size portions as far the eye could see. Heavenly. French cheese, Fine wines, "carefully sliced" Chorizo served in a cone paired with a perfect measure of sangria for £5.50. The lot.
Just remember to bring cash. In fact, before you rock up at the ubiquitous Pimm's London Red Bus and order, make sure you've got cash because a debit card at a food festival is about as useful as, well, cash on an actual London bus.
Oh, and probably bring a coat. Because no matter how romantic a walk into friendly Brentford may sound in the rain in search of a cash point, you are better off not also being wet.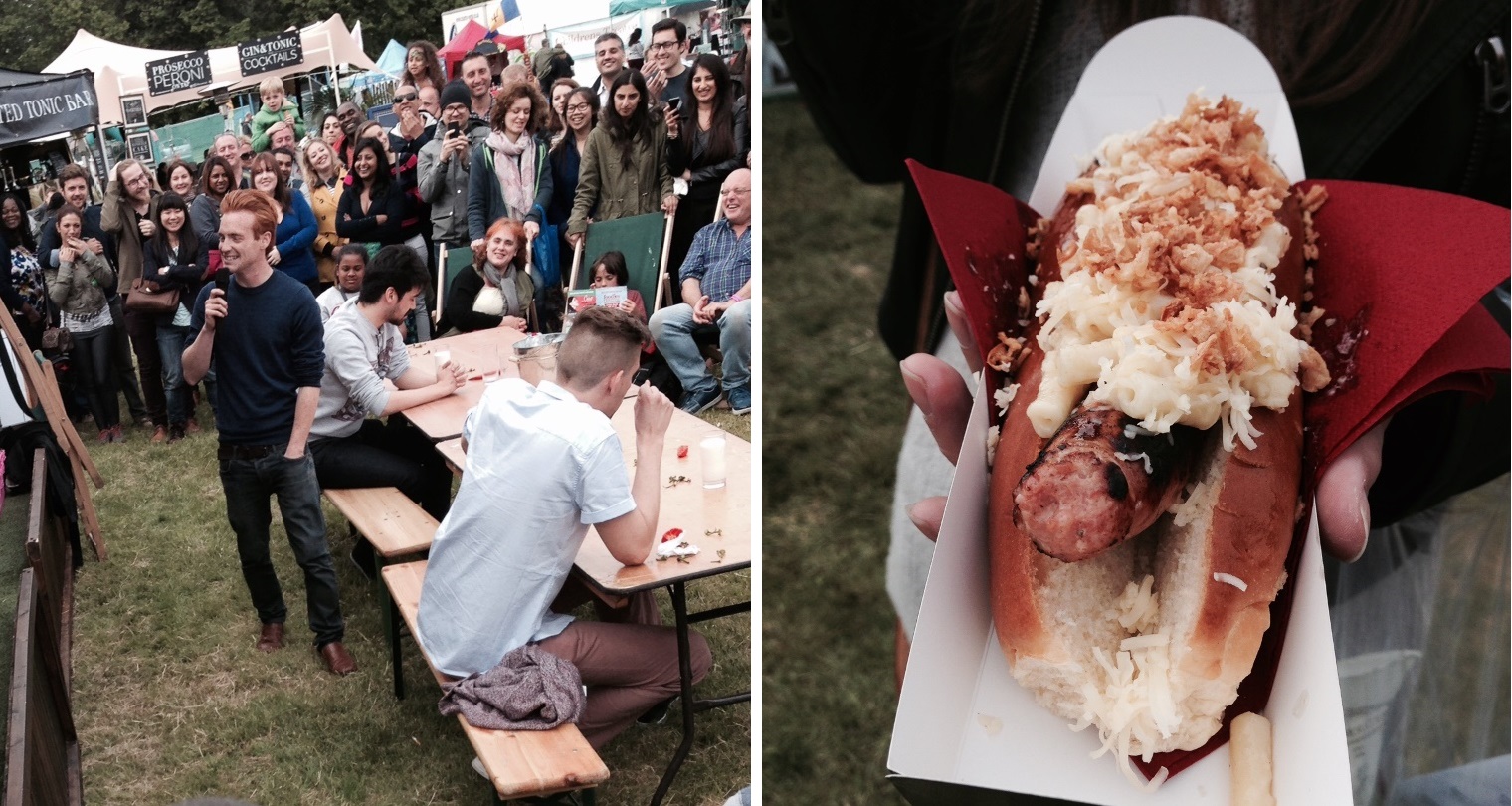 Chilli eating competition and a Mac n Cheese Dog
So armed with acceptable currency, it's time to dispel the myth that mixing drinks is bad for you. Firstly, a pint of Pilsner which has reassuringly been brewed the same way for 200 years, then a crisp, earthy medium dry Somerset cider, and that (now lukewarm) Pimms is the recommended aperitif.
You'll find drinking before eating will make you more of an expert at the stalls you'll subsequently visit. Imparting your knowledge from that wine tour you did with work on an actual wine expert who is actually from Noir Valley is encouraged.
You'll also be far more inclined to bring false hope to the stalls offering a service. Because after a cider/lager/Pimms cocktail on a (so far) empty stomach, you are least four times more likely to entertain a lengthy discussion about bespoke "wedding favour" chocolates, at a wedding you are not having.
And finally, clouded by mild intoxication, you will feel absolutely no shame in accepting mouthfuls of pimento olives and feta cheese, with absolutely no intention of buying. After all, aren't 'tasters' exactly what food festivals are about?
Another thing food festivals are exactly all bout is spending money on things you want to eat. The choice is endless. Street food, pop-up restaurants (obviously), a tasting theatre, cooking master classes, there's even a BBQ arena. I'll say again, a BBQ ARENA.
Please eat and drink irresponsibly.
There are upcoming Foodies Festivals in London at Alexandra Palace and Clapham Common. Find full details at FoodiesFestival.com.
Read more posts by Marc Gatford here.