How does the LDN Card work?
The LDN Card is a discount card for London. It saves holders money at hundreds of places around the city. Holders simply have to show their digital card when paying to claim the discount. There are also a range of online discounts with the LDN Card, that you simply have to register your card to claim.
Where can I use the LDN Card?
The LDN Card offers holders discounts at a huge range of places both in London and online, including shops, restaurants, gyms, cafes, salons, bars, clubs and tourist attractions. There are hundreds of different places and we are adding new offers all the time.
You can find the full list of places that accept the LDN Card, as well as all the information you need for each one here. You can also see full listings whilst you are on the move, with our mobile friendly website and make sure you look out for LDN Card stickers in shop windows.
What discount do I get with the LDN Card?
The offer varies depending on where you use the LDN Card. There are discounts ranging from 10% to 50%, as well as offers like 2-for-1 and freebies. Simply check the individual listings to find the discounts on offer.
What makes the LDN Card different to other discount cards?
Unlike other discount cards, the LDN Card is your complete discount card to London. We don't just offer discounts on restaurants or shops, but on EVERYTHING. We also focus our discounts around local areas of the city, meaning there will plenty for you to choose from around the area you live, work, study or visit.
However, the card is not just for locals, but tourists and international students in London too. There are savings on many of the top tourist attractions and sightseeing tours, but the LDN Card also acts as a guide for those new to the city. Every one of our partners is a recommendation from us, making exploring London for the first time not only cheaper, but also easier.
Quite simply, with the LDN Card, there is something for everyone.
How much money can I save?
Below is an example week of usage of the LDN Card to give an idea of how much money holders can save in just a short time.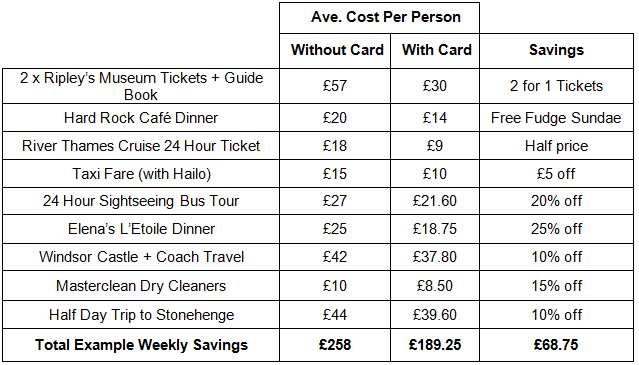 How long is the LDN Card valid for and how much does it cost?
1 Year Membership: £25
3 Months Membership: £15
1 Month Membership: £10
* For bulk orders, we offer tailor-made options depending on your needs, which can be discussed upon request.
If you have any more questions about the LDN Card, please email us at info@ldncard.com